Becoming our better selves
Find a list of schools
The relationship between gender, sexuality, and boarding school has always been an uneasy one. At one time, parents looked to boarding school to enforce what they would have considered to be normative behaviour. Ted Rogers, founder of Rogers Communications, recalled that "my pediatrician advised my mother that I should go to a boys' environment because if I stayed home with my mother and a nanny, I'd become a sissy." He was seven.
It is true that boys' boarding schools, at that time, weren't for "sissies," at least in the sense of the term as Rogers would have understood it. (To some extent it was used to refer, indirectly, to a cultural unease with gender and homosexuality, though that's likely something we're only able to perceive in retrospect.) Rather, schools enforced a very singular, narrow vision of masculinity. For some parents (and apparently some pediatricians as well) that provided the motivation to send their children to boarding school. It wasn't a place for finding yourself, or refining your interests, or growing into who you were or wanted to be. Rather, it was a place to become part of the whole, to become like other people.
Rogers certainly wasn't a "sissy" in his adult life, again in the sense of that term as he would have adopted it. We'll never know if that's a result of his boarding school education. For others, the experience was more fractured. Michael Ignatieff, like Rogers, was a student at UCC. Looking back, he says that "the logic of boarding [at the time] was basically to get puberty out of the house, to get boys away from their parents so they can become sexual animals alone."
"The single-sex environment produced a certain homophobia, which I now very much regret. I have very strong emotional feelings toward men, some of which were cultivated by that environment … Yet there was a tremendous anxiety about crossing the line into homosexual experience. I think it is very right and appropriate for men to love each other … . That was damn difficult in that school, and made more difficult than it needed to be."
There was a tension in Ignatieff's day that perhaps is less with us today, if only because sexuality is less cloistered. In its place, though, are new tensions, many which derive from an understanding of the benefits of authority as well as potential abuses. "I think it's important for a boy, for a young man," says Ignatieff, "to see male authority that he can believe in."
Increasingly schools are giving a very welcome attention to how they can address their students' emerging academic, social, and gender identities, and to provide the kind of authority, both from men and women, that Ignatieff describes.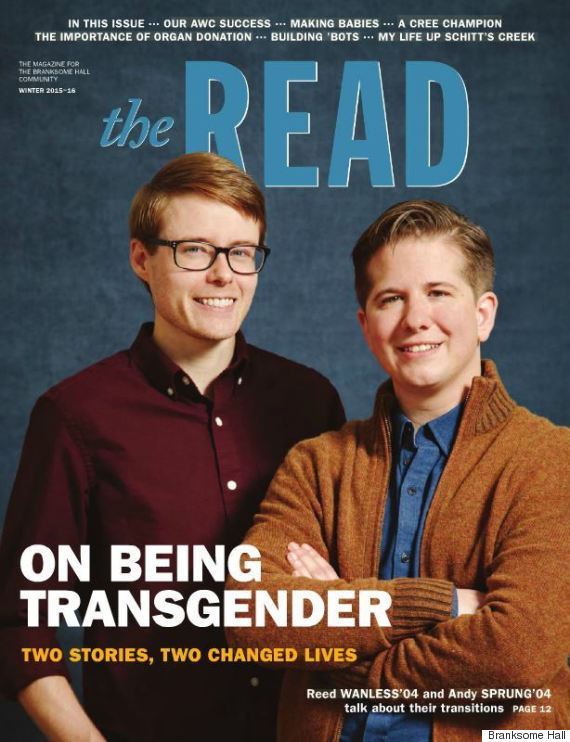 Two former students, who now identify as men, appeared on the cover of
Branksome Hall
's alumni magazine, The Read, in 2016.
"… to find and become your best selves"
In 2003, Chris Studer was in grade 7 at UCC, and was admittedly a bully. "I definitely had a mean streak," he said, reflecting years later, admitting that it came from his insecurity and the desire to find a place within the social life of the school. His insecurity lead to the use of slurs toward those who were different, or were perceived to be different from himself, particularly around sexual orientation. At a forum hosted at the school in 2013, Studer invited Calum Mew to join him on stage, one of the people he had bullied all those years before. They both told their stories, and Studer voiced his regrets.
Of course that past can't be changed, but Studer and Mew's participation in the forum was significant of an ongoing dedication to a program of mentorship around gender, sex, and the full range of relationships that students share during their time at school. It was emblematic of a more open discussion, one that had been validated by school administration with the launch in 2001 of the Gay-Straight Alliance in order to create an opportunity to acknowledge the sexual and personal diversity at the school. The project was created to look forward, and to encourage an open, supportive setting. Interestingly, it also provides opportunities to look back—as it did for Studer—to acknowledge and address the past.
A Gay-Straight Alliance (GSA) began at Trinity College School in 2002 when a teacher brought together a group of students who were tired of the use of derogatory terms and the harassment that was going on at the school. It is still running today, and the membership continues to grow. There, as at other schools with similar programs, membership levels perhaps aren't as important as the presence of the initiatives. Tucker Barton, a teacher at Trinity, says that "the students at our school speak about the importance of the administration's support for their activities, because it is seen by the broader school as saying 'we're okay with that.'"
"Our students also highlight the importance of the GSA having a place in school publications and the yearbook, just like any other club. … Like any change, the first step is accepting that these students have an equal right to see representations of themselves and their families in their schools. The second step is resolving to find a healthy way for them to be included and discussed within the school community."
Schools, understandably, have always reflected the culture that they are within. Cultural ideals are implicit within the school's language, curriculum, and traditions, something that has of course been true throughout the ages. For much of our history, schools were a means of establishing and maintaining a status quo, with the needs of society as the principle driver.
Today, more than ever before, the opposite is true: boarding schools aren't about maintaining the status quo, but about striving for something better, and working to provide a model for how we could, and should, live as a nation. "It is critical that we interrupt dominant cultures," says Nicols, "by questioning norms and injecting new, more inclusive traditions into school life and curriculum."
New programs and initiatives, such as UCC's Character Project, are designed to affect exactly that kind of interruption. In 2015, Jim Power, principal at UCC, described the Character Project as a means of getting at something that he feels is essential to a complete education. In an address to the student body, he said that while "we can see how you're doing in math, French, and English ... we can't accurately determine the more important questions: how do you deal with adversity? Do you demonstrate courage in the clutch? And most importantly, What kind of guy are you becoming?"
The goal of education, Power believes, isn't restricted to academics. The goal, as he said in that same address, is also "to help you all find and become your best selves," a process that includes social-emotional development, maturity, decision-making, and an explicit attention to mental health. True to that goal, the school created a new role, that of Character Integrator, in 2014. In addition to teaching English and Drama, Laurie Fraser became the first member of the faculty to take on the post. "It's important for [students] to have a sense of autonomy," says Fraser, "and feel like they have influence in their school, because that engagement and ownership of their school life deepens their connection to their school culture."
The Character Project and initiatives like it in boarding schools across the country is emblematic of an ongoing commitment to allowing students to have that kind of connection, and to providing opportunities for them to exercise it in ways that are meaningful and tangible. It's about instilling authority and leadership, but it's also about character and the development of positive self concept. "It's really hard to act in the world with kindness and generosity when you don't feel good on the inside," says Fraser.
And while the initiatives at many schools began with gay-straight alliances, ultimately the goal is to address the needs of all students no matter how they may or may not identify themselves. Says Fraser, "[w]e have conversations in a series of workshops about character strengths and the pillars of well-being, including positive emotions, engagement, relationships, finding meaning and having a sense of accomplishment in life." That program and others like it recognize that it's a process, and one that we all share equally.
•
–Glen Herbert