Overnight camp for children and teens with and without LD, ADHD and high-functioning ASD. SOCIAL SKILLS PROGRAM, ACADEMIC PROGRAM, and 50+ ACTIVITIES. Staff includes many professionals from fields of education, child care and recreation. Camper-to-staff ratio is 2:1. Doctor and 3 nurses on site. Lakefront cabins with electricity, full bathroom and shower. Fun! Friends! Success!
---
The Our Kids review of Camp Kodiak
All camps, in varying degrees, personify what camp is all about, though some do that even better than most. Kodiak is one of those camps. It began from a place of pure, unadulterated care, when Dave Stoch explored how camp, particularly, could support kids with a range of special needs. He moved with his family to the US for 7 years, living and learning at a special needs camp there. His daughter, Shari Stoch, says that "in these special needs camping environments that he'd been involved in, he saw the kids really thrive, and they were able to find their place." And that, right there, is absolutely what camp, any camp, is about. That's what camp can do that other environments often can't, or can't do as well. The family returned to Canada in 1991 and founded Camp Kodiak, building it around all the best practices that they had grown to appreciate. It's not about separating kids with needs from others, but realizing that, well, all kids have needs, though not necessarily all the same ones. Kodiak is a place where they can be integrated, where their struggles are understood, and programming is managed to provide fun, learning, growing, and inclusion for all. Dave Stoch's daughters Ilana, Shari and Marni now direct the camp, having started that first year as counsellors and working into the leadership roles. Their expressed interest is to maintain all the goals, dreams, and culture that their father established those years ago. It's a great story, and a great camp. This is truly what it's all about.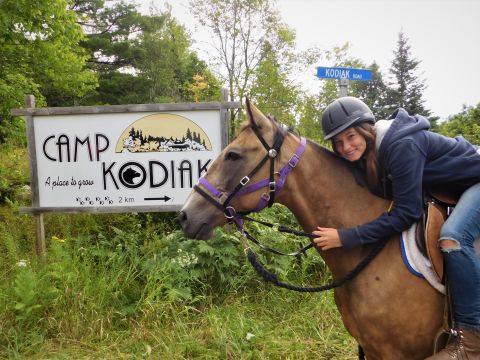 Camp Address
200 Kodiak Road, McKellar, Ontario, P0G 1C0, Canada