---
On this page:
---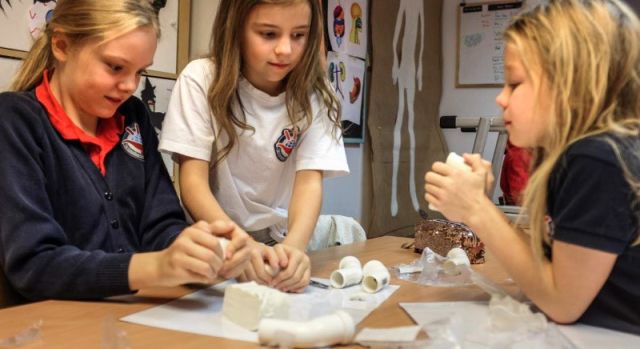 The main language of instruction at the Canadian School is English, but children study in three basic languages: Polish, English, and French. They can also learn other languages, such as Spanish and German.
Our Kids talked to school principal Christine Mamo, who's been the IB coordinator at each campus for three years. Her education is in the fields of speech pathology, ancient history, and teaching English as a foreign language.
Our Kids: Your school has the word "Canadian" in its name—what does that mean in practice?
Christine Mamo: At the beginning, it was a Canadian school with Canadian teachers. In those days, it was a very small school, and after it was transformed and grew, "Canadian" was kept in the school's name for the sake of tradition. We don't have Canadians working in our school anymore, but one of the Canadian elements we offer is the French language, which after all is one of the two official languages of Canada. We are also in close touch with the Canadian Embassy in Warsaw, and every year we participate in their annual event.
IBO authorization of the school
Our Kids: In 2014 your school was officially authorized by IBO as an IB school. What does that mean for your teaching philosophy and methodology? What kind of a graduate do you produce?
Christine Mamo: Our basic curriculum from preschool to Grade 6 is the IB Primary Years Programme (PYP). It offers a very specific way of teaching. For instance, in each class and grade, there are a number of so-called "units of inquiry." At the beginning, there are four such units, and later, when children grow and mature, there are more.
Each of the units has a dominant theme. For example, in Grade 3, we are now completing a unit on water. Of course we approach it from a multidisciplinary point of view—language, math, science, and art.
In addition to English, students also have to learn in Polish, because in our program we also include the Ministry of Education's Polish curriculum. Students learn other subjects in English and Polish, such as physical education, arts, music, and religion and ethics.
Our Kids: What are the requirements the school needs to satisfy to get the official authorization from IBO? Is it a complicated process?
Christine Mamo: Yes, it's a very rigorous process. There are training sessions which teachers need to undergo. Of course, the organization needs to conduct a detailed analysis of the curriculum, and decide if it adheres to IB guidelines and rules. The methodology of teaching is also carefully analyzed.
Representatives of the organization visit the school, where they spend a lot of time observing and gathering information to evaluate whether the school satisfies the requirements very clearly established by IBO. Last year, we had to undergo another review, since this is required every five years.
Our school was visited by two IBO representatives, who spent three days at our school. They met with students and teachers, observing how they interact. They met with other stakeholders as well. We'll have another such visit because we applied to the IBO for authorization of the Middle Years Programme (MYP).
IB teaching
Our Kids: Can you explain the inquiry method, which is said to be typical of IB programs?
Chrstine Mamo: We encourage our students to conduct independent research, ask many questions, and we give them tools which will enable them to find answers to those questions. In our teaching, we depart far from the traditional approach, where the teacher stands in front of the class, tells students everything, and works with them on the basis of a textbook. Our education is based on projects. Methods of evaluating students and their progress are also different. We try to avoid tests and quizzes—evaluation is done mostly on the basis of students' projects, presentations, and debates within specific educational units.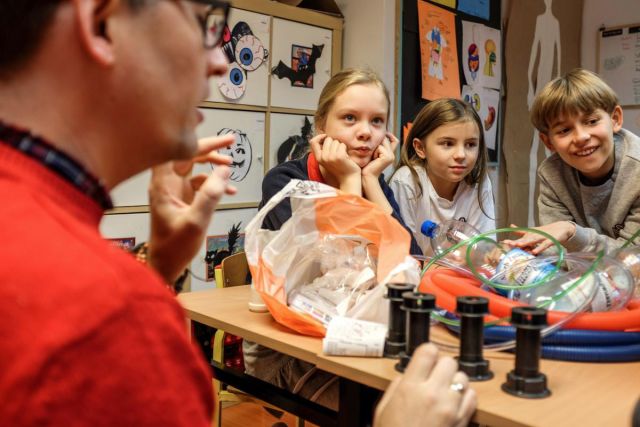 Teachers and students
Our Kids: Who are your teachers?
Christine Mamo: We have many foreigners who teach in our school, especially from preschool to Grade 6. They come from many countries, for example, South Africa, Australia, and Great Britain. But we also have Polish teachers, all of whom have an excellent command of English.

Our Kids: What about your students?
Christine Mamo: Most of our students are Polish. About 35-40% are foreign students from European countries such as Slovakia, Slovenia, and the Czech Republic, but also from outside Europe, such as India and China.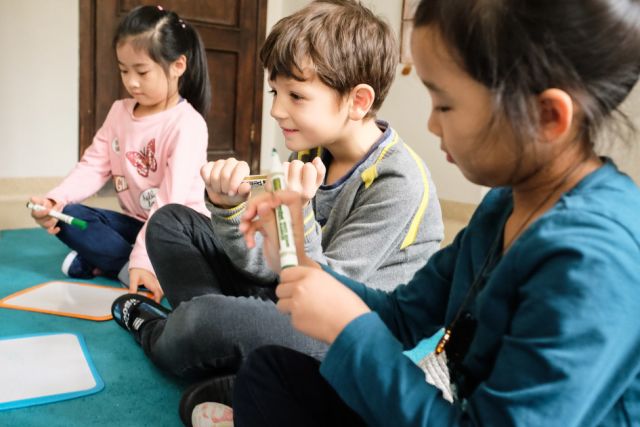 Our Kids: Are there many students who started their education in your school from the very beginning—from preschool—and have gone through your whole system, right up to Grade 8?
Christine Mamo: That depends on the year. The last two years most children whom we had in preschool continued education in Grade 1 of elementary school. We expect the same in the fall of this year
Our Kids: What students are best suited for your school?
Christine Mamo: This is clearly described by IBO in the so-called "profile." It specifies the ideal features IB students should possess. These include risk-taking and open-mindedness. Despite the fact that most of our students are Polish, we have about 40% foreign students, and that's why it's very important that our students be open to diverse cultures and languages.
Our Kids: Do you keep track of where your students continue their education? Do your graduates continue their education at IB schools?
Christine Mamo: Yes, this is the most common route for our graduates, sometimes in Poland, sometimes in other countries, depending on the family situation. Even when the family goes abroad, most of them look for an IB school. This is similar to families that live in Poland.
Language education
Our Kids: The language of instruction in your school is English. Is any instruction at all done in Polish?
Christin Mamo: Yes, the main language of instruction in our school is English, but of course the moment students start having Polish as a subject that changes completely. At that point, the students begin to have lessons in Polish, because they start to go through the Polish curriculum. For instance, history is taught in both languages because the students need to know the Polish terminology to meet the requirements when they reach Grade 8.
Our Kids: So in some subjects lessons are conducted in both languages at the same time?
Christine Mamo: Yes, indeed.
Our Kids: Does that mean there are two teachers present in class or that one teacher uses both languages interchangeably?
Christine Mamo: One teacher uses Polish and English.
Our Kids: Do you have language entrance exams for students who start elementary school and have not gone through your preschool?
Christine Mamo: When we accept students to Grade 1 in our elementary school, we don't test their English. If a child speaks only Polish, we provide language support in English that will make it possible for him/her to catch up and learn all the necessary vocabulary. Similarly, children of foreigners who come to our school who don't speak Polish get additional language support in Polish.
Our Kids: Does this form of assistance cost extra?
Christine Mamo: No, this is all included in the fees.
Our Kids: So if a family comes from abroad, for example, on a contract, and neither the parents nor the child speak Polish, by enrolling the child in your school, the parents can assume that he/she will learn some Polish?
Christine Mamo: Yes, of course, and this is what happens.
Our Kids: How is that language support offered—is it one-on-one assistance or small group lessons?
Christine Mamo: We use both of these forms.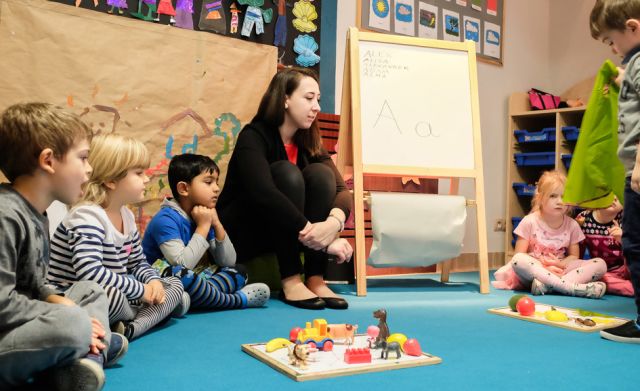 Classes and homework
Our Kids: How large are classes in your school?
Christine Mamo: Well, that depends on the size of our rooms, but we never go over 20 students.
Our Kids: How do you approach homework—do you assign a lot of it?
Christine Mamo: This is very clearly specified for each grade, but generally we do not want our students to go home and spend hours doing their homework.
Difficulties/Problems
Our Kids: What kinds of problems do you sometimes encounter?
Christine Mamo: There are problems in handling emotions, behavioural issues, as well as learning problems, such as dyslexia. But we have teachers who provide support for children experiencing learning difficulties. We also have a full-time psychologist who offers help to teachers when needed. For some students, language can also be a problem, especially during classes taught in English, when they need to express themselves in English.
Obviously during recess we can't control what language students speak to communicate with each other, so sometimes foreign students who don't speak Polish may not feel comfortable. But we pay attention and make sure that nobody feels left out.
Achievements
Our Kids: What are you most proud of? What are the biggest achievements of your school?
Christine Mamo: Since I came here I can say we've definitely strengthened the quality of our PYP. More teachers have gone through the mandatory training. Also, there are many events which we organize in close collaboration with students, teachers, and parents. For example, our PYP students organize a wonderful exhibit shown to a wider audience. And for the last two years, the exhibit has grown substantially. We have important sports events, as well as talent shows. This is important because these are events that engage the whole school. I'm also happy about the excellent results of our Polish curriculum students on Grade 3 and Grade 8 exams.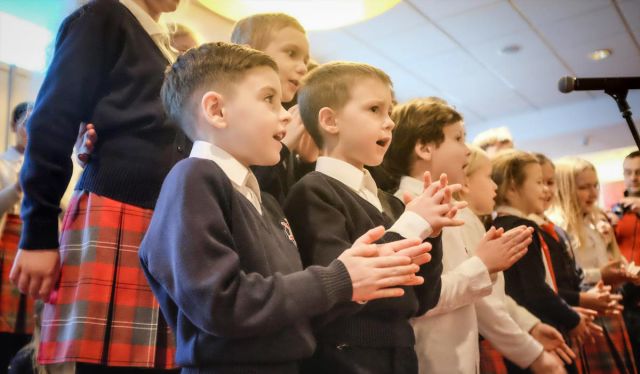 Our Kids: If I were a parent and came to talk to you about your school, how would you convince me that your school is an excellent choice for me and my child?
Christine Mamo: Definitely a very strong point in our school is our PYP program and our teaching, which makes our students very much involved. Our teaching is different from that in traditional schools, which is based mostly on textbooks and memorizing facts and knowledge, and where students learn what's imparted to them to pass a particular exam. In our school, students' work is based on projects, and we also require a lot more group work. Also, evaluation is done in a very different way—students get continuous feedback from the teachers. They're encouraged to reflect on their progress and how they're doing, what and how they're studying, as well as to set their own goals. All this together influences what and how we teach and the philosophy of our school.